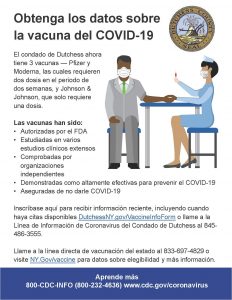 Dutchess County encourages residents to complete its Vaccination Information Request Form for residents to receive a notification when a vaccine appointment is available to them, based on eligibility, at a County Point of Dispensing (POD) site. Those who sign up will also receive updates about vaccine availability at other providers around Dutchess County, including hospitals, medical practices and pharmacies. The form is available on the County's vaccine information page: www.DutchessNY.gov/COVIDvaccine.
The County has two POD locations — one at the former JCPenney store at the Poughkeepsie Galleria at 2001 South Road Route 9, Poughkeepsie, and the former CVS at 3081 Route 22, Dover. These sites are by appointment only.
Those without internet access can call the Dutchess County Coronavirus Information Line at 845-486-3555 to hear weekly updates about vaccine availability in the county by selecting Option 1. Those over 65 years old can then choose to be connected with the Office for the Aging to be added to notification lists about appointment availability.
New York State also has established its own mass vaccination sites across the state, and residents can go to https://covid19vaccine.health.ny.gov to check their eligibility and see if appointments are available. They also can call the New York State COVID-19 Vaccination Hotline (1-833-697-4829), which is open seven days a week from 7 a.m. to 10 p.m., for scheduling appointments at New York State-run vaccination sites.