We welcome you to the Town of Stanford. Stanford is a beautiful rural town of about 3,825 residents. Our new website is currently under construction so please be patient as we craft a more user-friendly, colorful and informative site. We have beautiful trails to explore in Buttercup Sanctuary , the Stissing Mountain Multiple Use Area, Wilcox Memorial Park and many other lovely natural resources. Bring your bicycle, bring your children to our Rec Park….Come explore our stores and restaurants!
Arlene Christensen, Stanford's extraordinary Librarian, retired on Sunday after 25 years of Public Service. Her accomplishments include creating over 300 programs reaching out into the Community, promoting a love of reading to our children, and helping spearhead the creation of the new Stanford Free Library. Fortunately for this community, Arlene will continue on behind the Circulation Desk as Crista Cerful takes over as the new Director of our library.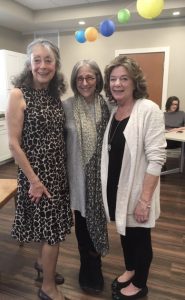 Arlene Christensen [left], pictured with Town Supervisor Wendy Burton and Library Board member Laura Gilhooly on right.
ELP Stanford Solar LLC
ELP Solar LLC has purchased the old mine site owned by Red Wing Sand and Gravel located on Rte 82 behind Town Hall. Priority subscriptions are available to all Stanford residents and businesses through March 30,2020. Their literature says you can save 10% annually on your Central Hudson bill. To join the wait list go to www.elpstanfordsolar.com . You can read about the way the plan will work as well as any fees associated with early withdrawal from the project.
Community Project to help the Stanford Grange Little Free Food Pantry
The LFP is a place where non-perishable, hygiene products, pet food and household supplies can be found. It can help those in immediate need and creates and environment of community. The Stanford Grange needs your help to get this project started so that our community can add one more thing we offer the people to show how much Stanford cares. A beautiful wooden pantry has been donated, so donations can be made to help the Grange stock it full of goods. Checks can be made to Stanford Grange 808 and mailed to PO Box 108, Stanfordville, NY 12581
The Town Board would like to thank the community of Stanfordville for the warm welcome we were given when His Honor Dennis Smith swore us into office on January 1st

~~~~~~~~~~~~~~~~~~~~~~~~~~~~~~~~~~~~~~
PLEASE NOTE THAT THE TOWN OF STANFORD TRANSFER STATION IS ACCEPTING YOUR CHRISTMAS TREES FOR DISPOSAL THROUGH THE MONTH OF JANUARY.
~~~~~~~~~~~~~~~~~~~~~~~~~~~~~~~~~~~~~~
Town Board Meeting videos 2020
~~~~~~~~~~~~~~~~~~~~~~~~~~~~~~~~~~~~~~~~~~~~~~~~~~~~~~~~~~~~~~~
The Town of Stanford Recreation Department is seeking a Recreation Director. The Director is responsible for administering and implementing a comprehensive recreation program and manage the recreation staff for the Town of Stanford.
ALL INTERESTED CANDIDATES MUST HAVE:
A. Two years of responsible experience in planning or directing recreation activities; OR
B. Two years of study at a regionally accredited and New York State registered college or university with major work in physical education or recreation; OR
C. An equivalent combination of training and experience within the limits of A and B above.
All interested candidates please email resumes to townofstanfordrec@gmail.com
SENIOR GUIDANCE
Senior Guidance is an organization dedicated to providing helpful senior living resources for the elderly. Their website www.seniorguidance.org provides information on New York assisted living.
~~~~~~~~~~~~~~~
The Stanford Fire Chief has asked to remind ALL residents that they must display their house number on either their homes or mailboxes in reflective numbers in order to save valuable time in case of an emergency.
The Milan Fire Department can make blue reflective signs for you for $20.
Please see "Town Forms" for their order form under the Town Clerk
Did you know your Stanford Fire Company is a 501 c(3) Not for Profit? The Fire Company appreciates any donations and they are tax deductible !

****************************************************************

The Rec Department

is trying a new way to

register for the 2019 Rec season

! Below are links to the forms to complete for park registration, swim lessons and swim team (fall soccer forms will be available at the Rec or through John Blackburn). We will receive a list of all those who have registered and upon Rec opening, you will pay registration fees and receive your key tags. If you have any questions or trouble completing the forms, please email

townofstanfordrec@gmail.com

Fees are listed on each form. Swim lessons will be July 8th – 26th for session one and July 29th – August 16th for session two.

****************************************************************

All Town Forms can be accessed by using the forms link (Please click here.), and you can pay by credit card (Please click here.) from your home computer. You don't even need to come to town hall! How's that for service! We continue to move forward with our commitment to provide an efficient, effective, service oriented and available Town Government to YOU!! (Court fines can not be paid at this link, please call court directly for payment arrangements).

We are no longer able to take cash payments in excess of $20. If you must make payment in excess of $20, please use a check or money order ($35.00 fee applies to bounced checks).

**********************************************************************************************************************************

TOWN CODE, RULES AND REGULATIONS

We have provided a link to our Town of Stanford Codes, Rules, Regulations and Town Laws. Please see the link to the right side of the home page entitled "Town Code, Rules and Regulations". You can find all our local laws from A-Z. If you have any questions, contact Building Inspector / Code Enforcement Officer Don Smith or Supervisor Wendy Burton.

Stanford Town Hall
26 Town Hall Road, P. O. Box 436
Stanfordville, NY 12581

Supervisor-Wendy Burton
845-868-1310, option #2 or wburtonsupervisor@townofstanford.org


Councilwoman Mary Weinberger
266-4939
maryweinberger28@yahoo.com

Councilman Frank Pepe
fpepe@townofstanford.org

Councilwoman Margaret Fallon
mfallon@townofstanford.org

Councilman Paul Coughlin
914-506-1400
pjc@taconicdistillery.com


Town Clerk Ritamary Bell
Monday – Friday, 9 AM – 1 PM 845-868-1366, option #5
or 845-868-1387 (home)
914-474-3801 (cell)
townclerk@townofstanford.org


Town Court: Court Clerk ~ 845-868-2269
Monday – Friday, 9 AM – 1 PM
and
Monday & Wednesday, 6 PM – 8 PM
Town Justice Dennis Smith
Town Justice Frank Weber, Jr.

Highway Superintendent – Jim Myers 845-868-7804
Highway Garage: Creamery Road, Stanfordville
open 7 AM to 3:30 PM


Town Assessor – Steve Gotovich 845-868-1310, option #7
Open Tues-Wed-Thur 9am-3pm

Building and Zoning Officer – Don Smith 845-868-1310, option #6
Monday – Friday 8AM-11:30AM
building@townofstanford.org


Dog Control Officer – Diana Mackey 845-797-8109
or Pine Plains Vets 518-398-9494

Town of Stanford Bookkeeper Karena Frenzel
kfrenzel@townofstanford.org
845-868-1310, option #4

If you have any questions about our website, please contact the Website Administrator Supervisor Wendy Burton or Town Clerk Ritamary Bell