Restarting Dutchess Phase 1 beginning Tuesday, May 26th !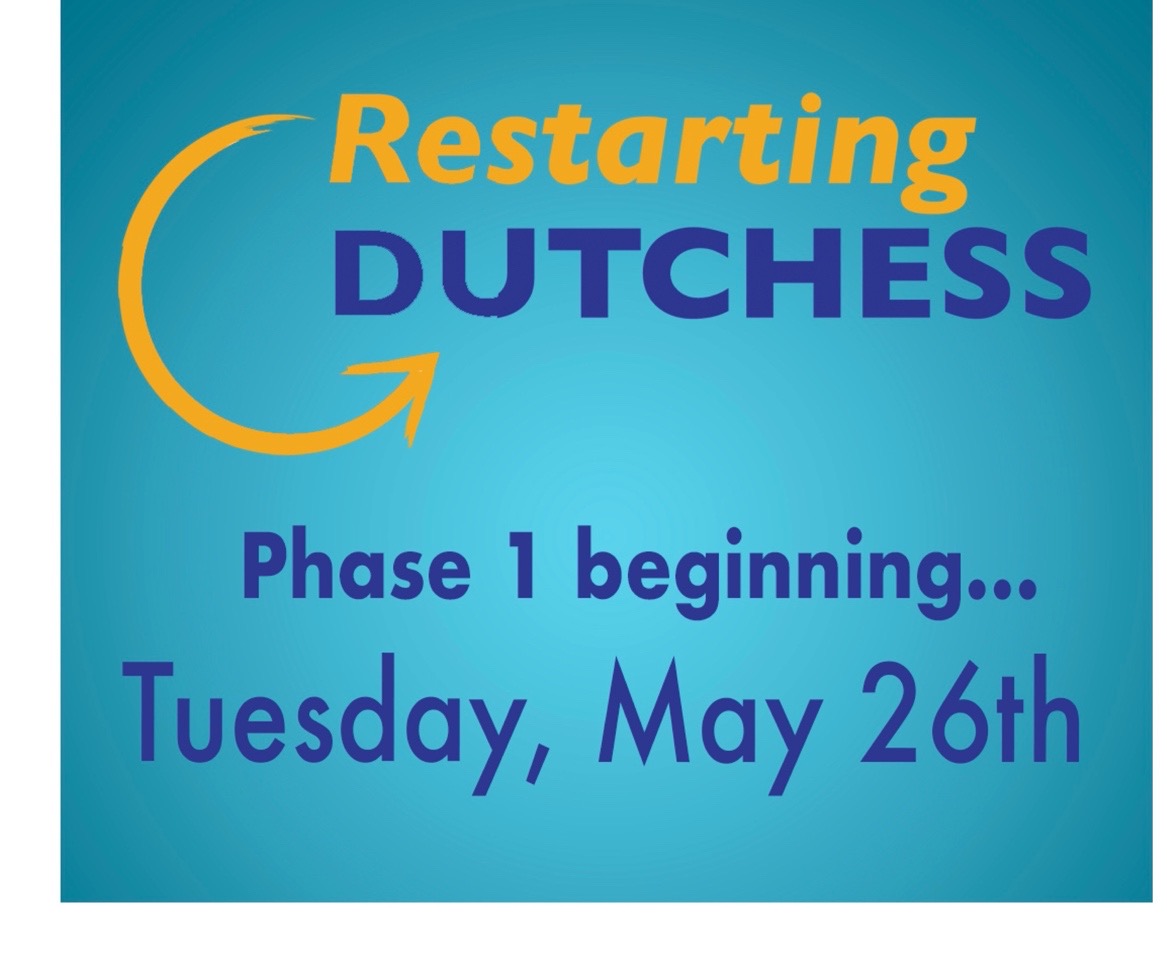 Poughkeepsie, NY … Dutchess County Executive Marc Molinaro announced today Dutchess County, as part of the Mid-Hudson Region, has been approved by New York State to begin Phase One reopening starting next week having successfully met all of the core health-related required metrics. The Governor is expected to announce the specific reopening date over the weekend. The following business industries will be able to reopen next week under the NY Forward phased reopening plan:
Construction
Manufacturing
Retail – Limited to curbside or in-store pick up or drop off)
Agriculture, Forestry, Fishing and Hunting
Wholesale Trade
County Executive Molinaro said, "This is good news for Dutchess County, a cautious beginning to restarting our local economy. We have worked tirelessly in the battle against COVID-19 and all of the metrics prove we have moved in the right direction. Our local businesses have also been working hard to put plans in place to ensure the health and safety of their employees and their customers. It is critical we all continue to work together to protect our community's health as we begin the process of 'Restarting Dutchess'."
Construction staging – including moving materials and equipment onto job sites and setting up safety precautions – may begin now to allow full construction activities to be able to begin next week once the Governor has determined the specific date.
All eligible businesses who plan to reopen during Phase One must have a COVID-19 Health and Safety Plan to protect employees and consumers, make the physical work space safer and implement processes that lower risk of infection in the business. Plans must be retained on the premises of the business and must be made available to the New York State Department of Health (DOH) or local health or safety authorities in the event of an inspection. Businesses must review and submit affirmation they will adhere to the guidelines outlined in the NY Forward plan. Summary guidelines, safety plan templates and affirmation statement and submission directions are available, by industry, on the NY Forward website.
Phase One businesses are considered essential to the economy and are the lowest risk businesses. Phase 2 includes professional services, retail, administrative support and real estate/rental leasing. Phase 3 covers restaurants and food services. Phase 4 is arts, entertainment, recreation and education. It is anticipated there will be approximately 2 weeks between each phase being approved.
The NY Forward website also has a Business Reopening Lookup Tool to see if a particular business is eligible to reopen.
County Executive Molinaro offered his gratitude to all the people who recently volunteered to serve as contact tracers to help Dutchess County meet its goal of 252 contact tracers. Dutchess County had already met the original state-mandated metric of 30 contact tracers per 100,000 population with more than 90 contact tracers. Earlier this week, the state increased the required number of contact tracers to 252, basing it on infection rate. The County pushed out a call for additional volunteers, and there are currently more than 360 people (including the original 90) who have signed up to serve as contact tracers.
"We are grateful to all who are working to protect our community health," County Executive Molinaro. "We all have a responsibility to remain vigilant, it is vital each person continues to do their part to ensure the health & safety of themselves and our community – wear your face mask, maintain social distancing, wash your hands frequently and make smart choices. We want to continue moving forward, opening our economy piece by piece, as long as we continue to see improvements in our community's health and well-being."
# # #
Please note: New York State has NOT authorized the Department of Motor Vehicles to reopen to the public. DMV remains closed under Executive Order through June 6th. No reopening date has yet been established.